Goodman Ambassadors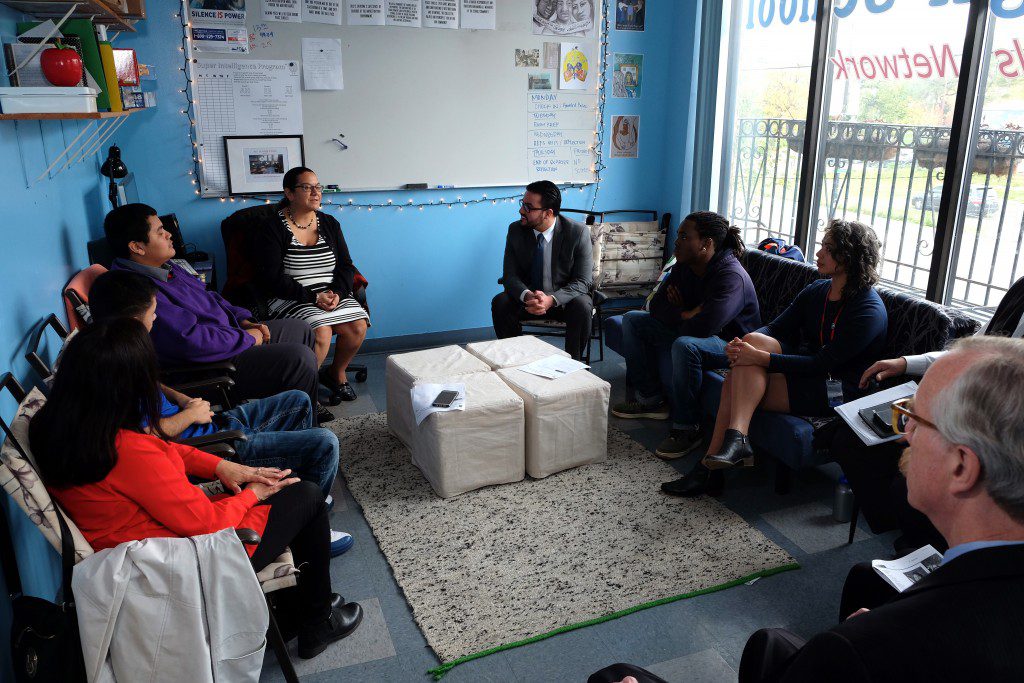 The Goodman Ambassadors are students who operate as the diplomats and peace keepers of the school. Ambassadors offer peer mediation, peer juries, peace circles, collaborative curriculum, and student-driven solutions to the school.
During the first year of support from the Goodman Foundation, ambassadors have been formally trained in Circle Keeping, engaged in dialogue with young people from the community about substance use and abuse, created poetry and art in response to violence, and have begun to organize data collected in order to best provide substance abuse messaging. Ambassadors also worked with Literature for All of Us to create a chapbook that reflects their struggles as youth (view the chapbook here). Connecting with the Puerto Rican Police Association, ambassadors will continue to foster important relationships and mentorships, thus building community.
Daily meetings in the Peace Room are the foundation of the Goodman Ambassadors' work. According to Ivan Valenzuela, senior to graduate in June 2017,
When it comes to trouble, the way we handle it is through the Peace Room because it is the safest way to solve a predicament. The process usually involves having all people involved come together with mediators in order to talk about what happened and how it is effecting everyone. Taking note of every possible detail and perspective, we openly talk about the situation. Everything is confidential. We try to encourage multiple ways to come to an agreement, or at least let bygones be bygones. Our main goal for the Peace Room is to find an alternative from violence and letting more trouble stir up.
Using the philosophy of Peace Circles, ambassadors are able to build trust, create safe spaces, and enable healing in the school community. They are actively engaged and create the support and opportunities through their commitment to school.  Goodman Ambassadors are the change agents the Humboldt Park community has been waiting for.









Photographs left to right:
First row: Marie Snyder, Assistant Dean of Students, preps for class in the Peace Room; some topics discussed during Particular Topics in Sociology class; Today Is Tomorrow art mural created during summer 2016 with support by the Cook County Justice Advisory Council;
Second row: Día de Muertos altar created by the Spanish for Heritage Learners; Peace Circle centerpiece from training with Community Justice for Youth Institute; Goodman Ambassador Elijah Hamilton creating a peace circle with Jose de Diego Community Academy students;
Third row: Alternative Schools Network Shop Talk visit on the south side to discuss violence in their communities with other young men in the city; Peace Circle and trauma training all staff and Goodman Ambassadors; Troy Harden, Program Director of the MSW Program at NEIU speaking with Goodman Ambassador Rena Wiley.