On Oct. 24, 2016, the young men from Dr. Pedro Albizu Campos Puerto Rican High School participated in the Shop Talk , which will promoted civic engagement by providing a platform for our youth to have in-depth, moderated conversations addressing social issues and exploring solutions.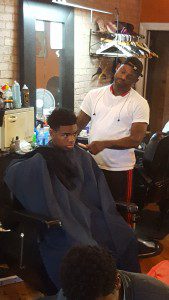 he event "What can we do about the violence in our community?", sponsored by the Alternative Schools Network, was filmed at Teasse Salon in the Bronzeville neighborhood.
Elijah Hamilton, Ivan Valenzuela, and Antoine Rodgers dialoged about violence in Chicago and the experiences of young men in their communities.  Elijah Hamilton stated, "We felt safe to express our stories in a safe space and learned how to host conversations that impact building relationships."
The students are looking to building this type of restorative practice to the Humboldt Park community and build leadership among young men.