Crystal Morales and her Family Learning Center's Teen Parents were able to spend the afternoon together at Great America's Fright Fest on October 19. Students like Cashaye said "the trip helped her bond with other teen parents!"  
While some students were at Great America, Rachel Geetha took about 70 students to Brookfield Zoo to study animal habitats. What a day!
The following week, Jessica Connolly took her English IV class on a tour of the city to finish their unit on "Devil in the White City."
On October 31 for Halloween, we participated in an event on Paseo Boricua that allows families and children in the community to come together and safely celebrate Halloween.  Young people from the Albizu Campos created a haunted house featuring scary clowns like Yuritza.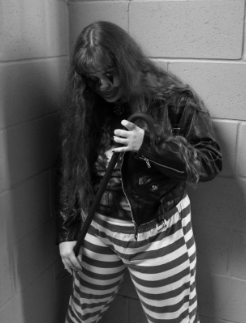 We also had our Family Learning Center and parents dress up for Halloween.
On November 2 we had our Homecoming Dance Keara Baker and Latrice Hurd were crowned Homecoming King and Queen!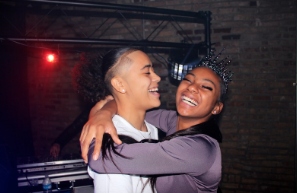 On November 7 to culminate our school's book talk on "The Hate You Give" young people went to see the movie at the theatres!  It was an emotional experience for all of us!
There's a tradition at Albizu Campos that the Board of Directors host the Definite Dozen – 12 young people that demonstrate RESPECT in building a revolutionary state of mind. These young men and women get to share a meal together and bond with career-driven board members for mentorship.  Our first Definite Dozen theme was Responsibility. Be responsible to yourself, to your family, to your community, to our world. Respect yourself. Demand that others respect you. Respect others. The following 12 young people were nominated: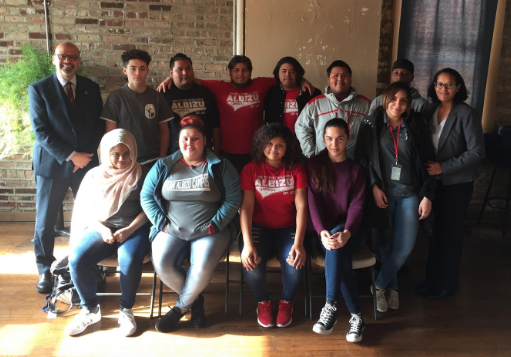 Brandon Galvez
Angelina Silva
Richard Barrera
Xavier Hernandez
Enrique Moreno
Mya Gonzalez
Francisco Jacinto
Dynasty Lewis
Jonathan Alvarez
Isaiah Conley
Denise Lebron
Cynthia Salgado