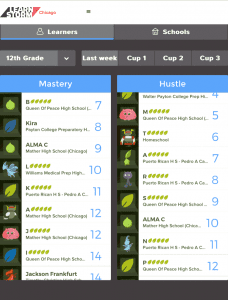 Students at Albizu Campos are Mastering Mathematics on Khan Academy
by Diamond Montana, PACHS Science Teacher
Many students in our community feel that they just aren't good at math. They think intelligence is fixed, but it isn't. The brain is like a muscle: the more you use it, the more it grows.
To help our students realize they they can learn anything, our Escuelita is participating in LearnStorm. Powered by Khan Academy, LearnStorm is a nine-week challenge where students can earn recognition for themselves and their school by mastering math skills and building a growth mindset.