On February 13, Chicago Women in Philanthropy hosted a luncheon with 20 young ladies from PACHS.  We had the opportunity to network with career and industry level young women. Over the next few weeks, young ladies from PACHS were able to have a full day career exploration shadowing experience at various worksites.  
Pictured are the representatives from Gaylord and Dorothy Donnelley Foundation (from left to right):
Ellen Placey Wadey, Senior Program Officer, Arts & Collection, Xreesol Lopez (PACHS Student), Clover Morell, Program Associate, Susan Clark, Director, Grants and Communications.
Thank you to all the women at CWIP willing to host PACHS young ladies and provide them a glimpse of their futures.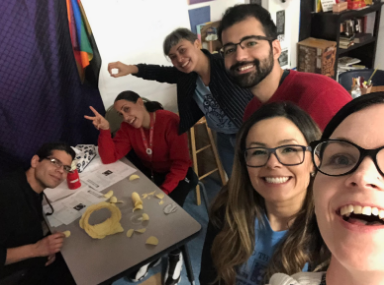 In February, we also celebrated Black History Month.  Marisa's PANA won 1st place. Geetha's PANA won 2nd place.  Josh's PANA won 3rd place. Thank you to La Bruquena that hosted the winning PANA for lunch!  
Have you ever wondered what PACHS staff do during our School Improvement Days?  Here's a glimpse of a Pringles Ring team builder that each building completed! Haddon Building was able to complete the difficult task in just over 20 minutes.
In our Instituto Abayarde class, the culinary program is blossoming!  Urban PIlon, our guest chef spent weeks cooking with our young chefs. Thank you to Geetha, Marisa, and Sandra that were able to chaperone.  Thank you to the 21st Century program and Mike Hannon as well as Marie Synder for all of their support in making this happen for our young people!