Dr. Pedro Albizu Campos Puerto Rican High School's mission is to provide a quality educational experience needed to empower students to engage in critical thinking and social transformation, from the classroom to the Puerto Rican community, based on the philosophical foundation of self-determination, a methodology of self-actualization and an ethics of self-reliance.
Created in 1972, Dr. Pedro Albizu Campos High School approaches education from the perspective of the whole-person, linking education to the individual social, emotional, andacademic needs of our students and empowering them to be active participants in creating change at the global, local, and personal level. Courses are designed to meet Illinois State Learning Standards and are integrated in community-based activities and engage students in the process of critical thinking and community inquiry.
We offer basic skills training with activities in technology, urban agriculture, media production and communications, critical art, and participatory action research, as well as college preparatory coursework through an ongoing partnership with Wright College. Classroom instruction is primarily project and problem based with an emphasis on developing higher order thinking skills of inquiry and analysis in place of rote memorization. Planning for the years to come, our curriculum will have social ecology as a conceptual centerpiece, framing student learning around three experimental stations: a hydroponics-based greenhouse on the roof of PACHS; soil-based community gardens in and around Humboldt Park; and tropical soil-based agriculture on the island of Puerto Rico.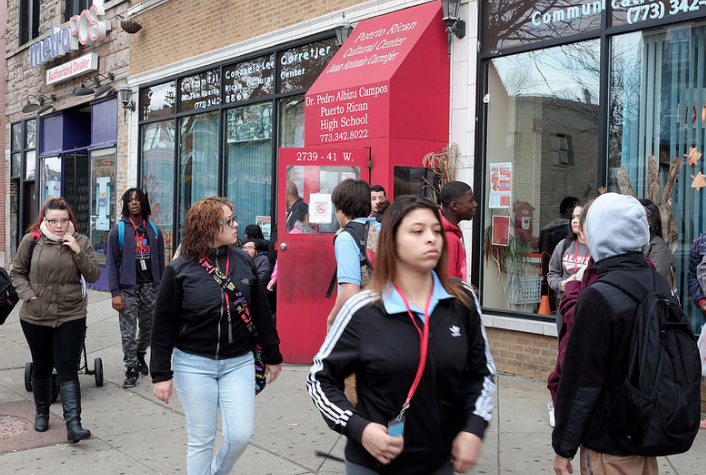 "An excellent example of liberating education can be seen in the efforts of students and teachers at Pedro Albizu Campos Puerto Rican High School in West Town, Chicago. Here, the staff use critical pedagogy in their collective work with the Puerto Rican community. They try to help students acquire a sense of humanity and purpose in their lives after an often brutal and dehumanizing colonization within the United States, where the material conditions for their labor are controlled and their dreams, desires, hopes and visions are often ideologically subjugated. Teachers at Pedro Albizu Campos are committed to equality and social justice and demonstrate an unyielding dedication to the empowerment of the Puerto Rican people." (Excerpt from Life in Schools, by Peter McLaren) 
The values of our school derive from our strong mission statement: Born of the practice of freedom, Dr. Pedro Albizu Campos Puerto Rican High School empowers young people to center belonging and love in order to envision personal and communal excellence.  Our unique pedagogy upholds transformative learning expectations while still honoring the context and reality of our scholar's lived experiences.