As a mother and a lifelong member of Humboldt Park, I am incredibly proud to be your principal. I attended DePaul University and earned my Bachelor's in Education and later National Louis University for a Double Masters in Curriculum and Instruction and in Educational Leadership.  I am currently pursuing a Doctorate of Educational Leadership. With 10 years of experience as a teacher leader, I have three priorities: Safety and Security of all staff and students, developing an educational experience built on a strong curriculum and engaging instruction and upholding the mission of PACHS through a community-focused curriculum.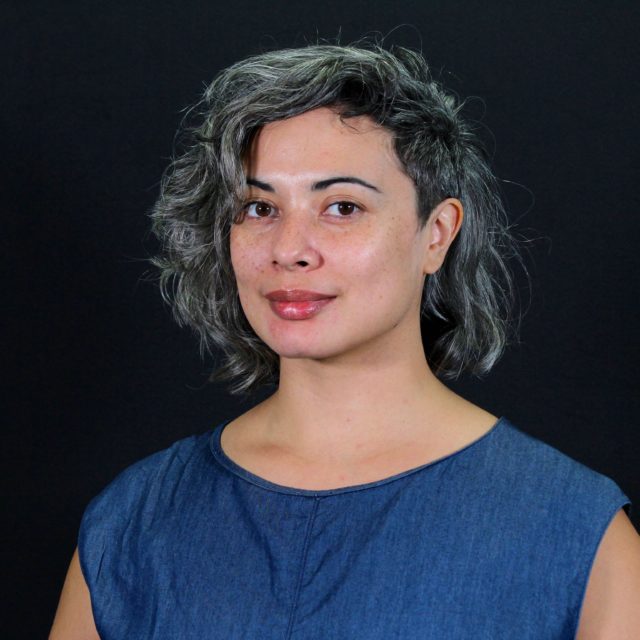 Marie Snyder
Dean of Restorative Justice
Marie Snyder is a first-generation college graduate, earning her B.A. in English from the University of Minnesota. Through generous support from the Alternative Schools Network, she is currently pursuing her Master's in Educational Leadership from Northeastern Illinois University in a cohort of exceptional YCCS educators. As the Dean of Restorative Justice, she works tirelessly to maintain the school as a sanctuary through anti-oppressive education and healing centered engagement. During the 2019-20 year, she looks forward to bringing project-based learning to the Instituto Abayarde after school programs, working with the PANA Student Leadership Council to ensure community accountability through Peer Conferencing, and making sure every classroom has a stocked up Healing Space. Marie is a lifelong reader and road trip expert.
Jessie Fuentes
Dean of Student Affairs
Jessie Fuentes is an activist in the Humboldt Park Community in Chicago, IL. Jessie is a graduate of Dr. Pedro Albizu Campos Puerto Rican High School – the Puerto Rican Cultural Center's very own educational institution. Jessie quickly after went to pursue her Bachelor's Degree in Justice Studies and Latino and Latin American Studies and is currently in Graduate School pursuing her Master's Degree in Educational Leadership. Jessie has done work around empowering young people in the community, the release of Oscar Lopez Rivera, anti-gentrification work, education reform, and work around the independence of Puerto Rico. Jessie began her political work as the Director of a youth organization in Humboldt Park called the Batey Urbano. She is now the Dean of Student Affairs at Dr. Pedro Albizu Campos Puerto Rican High School. Jessie is a firm believer that a more just world is possible through culturally relevant and meaningful curriculum. Through her social justice work, Jessie strives to be a Principal that will fight against all injustices that impact the lives of young people.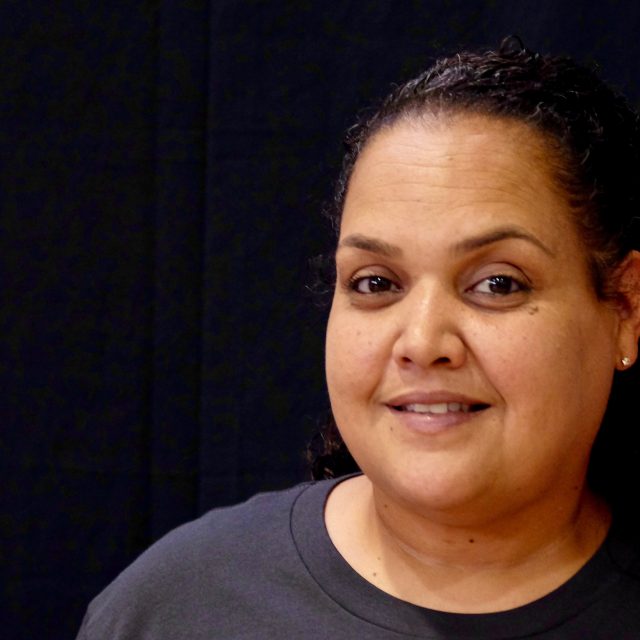 Michelle Oquendo
Operations Manager
Michelle was born and raised in Chicago. She is the proud mother of four wonderful children, one of which is an Alumni of Dr. Pedro Albizu Campos High School.  While her daughter attended PACHS, Michelle volunteered her time at the school. Through her dedication and understanding of the social and economic challenges that families face; she was given the opportunity to work at PACHS. Michelle has held several positions, she began as a Clerk, promoted to Attendance Counselor, then moved to Registrar for Student Records and today, she serves as the Operations Manager and a member of the Mission and Vision team of the school. Her love and dedication to PACHS is evident in her practice.
Gustavo Colon-Braña
English Black Literature Teacher
Gustavo Colon-Braña graduated from Northeastern Illinois University in May of 2009 with a Masters Degree in Language Arts Education along with a teaching certificate in secondary education, and a middle-school endorsement. Gustavo was brought on board as a member of Dr. Pedro Albizu Campos Puerto Rican High School's instructional staff in July of 2009 and has taught Black and Latino Literature in room 114 of the Haddon Building ever since.
Zoraida Rivera-Tañón
Spanish Teacher
Zoraida Rivera-Tañón is a Puerto Rican woman born and raised in the city of Caguas, who moved to Chicago with her husband in August of 1987. In 1988 they became owners of La Bruquena Restaurant on Division Street. Zoraida has been an educator for 23 years at the Humboldt Park community, eleven of those years at Dr. Pedro Albizu Campos High School. Zoraida graduated in 1991 from DePaul University with a Major in Spanish and a minor in Business, in 1993 from University of Illinois at Chicago with a Masters Degree in Hispanic Studies, in 1996 from Northern Illinois University Master's Program of Educational Leadership as an Education Specialist, and in 2013 she finished her extended education with a certification from Illinois College, Type 9 & 10, concentrated in Social Justice in Education. At Campos, Zoraida runs the Spanish Program & English Language Learners Program. She is also the facilitator of the Civic Engagement Program guiding our students as the top competitors, for the last two years, at the YCCS Civic Engagement Students Fair. She is also the tutor of the Instituto Abayarde (After School), Seniors Advisor and creator of Albizu Campos Women Group
Virginia Boyle
English Teacher
Dedicated to the cause of Puerto Rico, Virginia has lived and worked in this community for years. She is completing her 5th year as an English Instructor at our school, where she has conducted after-school programs in Journalism, Poetry, Theatre, Louder Than a Bomb (Coach), and co-facilitated  publication of the student newspaper. Virginia's degrees include: Ph.D. in Communications; Master of Education; Master of Fine Arts; Master of Arts; and BA. She is also a qualified Special Education teacher, endorsed Learning Behavior Specialist I. She has toured the world as an actress, directed plays, ran the Chicago Youth Community Film Festival (15 years), taught college courses, and worked as Program Director (10 years) with Community TV Network, empowering youth to broadcast quality first-voice films. She has published articles, poetry, plays, and books. In 1975, she taught Theatre at our school and co-directed our student production of Nuestra Verdad, presented at NEIU and UIC. As an Irish citizen, Virginia is forever grateful to Dr. Pedro Albizu Campos for his contribution to Irish independence.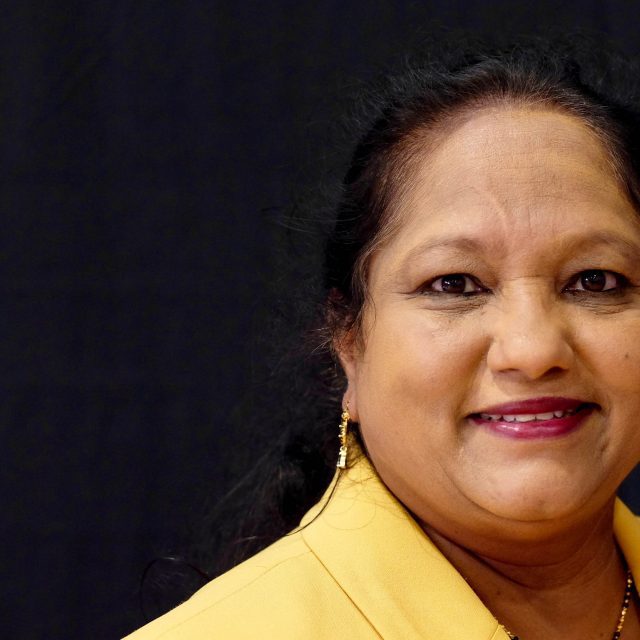 Rachel Geetha
Science Teacher
Rachel is a caring, dedicated, social, dynamic human being who had leadership qualities and loved working with young people and believed in sharing knowledge, and to see them mature into well fit individuals to cope up with the present society. She had a passion to pursue health and medical sciences, unfortunately could not, due to financial circumstances. After attaining Bachelors of  Pre-med sciences degree, she created passion towards teaching and completed her Bachelors of Education with a Gold medal from the University. In addition, succeeded in doing Masters program in Sociology in the year 1982, when she got married. Rachel was blessed with two kids and was hired as a Principal of a High school in India for 10 yrs. Later came to US. Rachel taught Biology, Chemistry, Earth Science, Environmental Sciences at Chicago Public Schools for 17 yrs in day school, evening school and summer schools. She played different roles as a IDS Lead, Head of the Department, Science Fair Coordinator, ILT member. During that period of time she went back to school and earned Masters in Educational Administration, Masters in Curriculum and Instruction. Rachel could accomplish her goals in educating her kids to be bright , intelligent, hardworking individuals. She feels fortunate to work for Pedro Albizu Campos school, as she found a great family who are dedicated, passionate to excel students to higher academic standards, with a right meaningful authentic learning, relating to everyday life experiences and bright citizens of our country.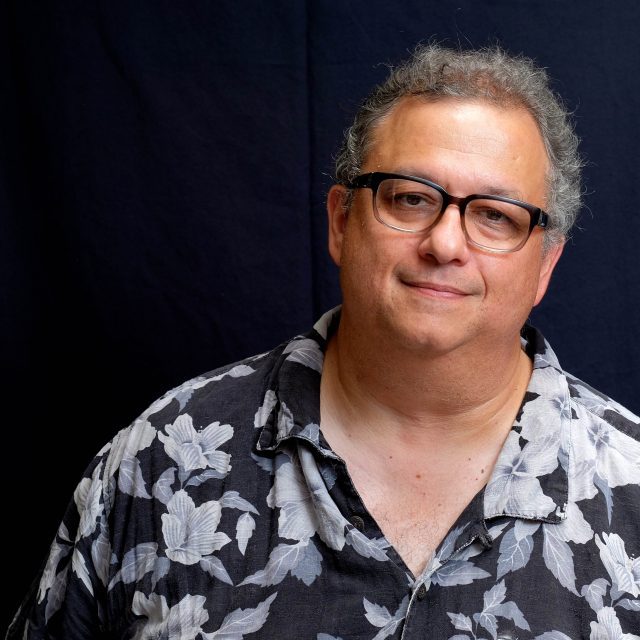 Joshua Cohen
US History Teacher
Josh has been involved in history education for 18 years. Initially through his work at the Chicago Metro History Education Center, Josh introduced students to inquiry-based historical study, and the value of one's local environment as a source for comprehensive research and exploration. A lifelong Chicagoan, Josh is familiar with the city's many diverse communities and their significance in immigration, industrialization, and urbanization. Josh has a BA in History from Roosevelt University, and a MAT in Secondary Education from National-Louis University. Josh finds the study of history to be a most effective way for students learn of past struggles in order to become agents of empowerment and change for the future. Josh lives with his wife, Lisa, and sons, Eli and Asher. In addition to teaching history, Josh is passionate about jazz, soul, and the Chicago White Sox.
Hugo was born in a small, country town in San Juan, Jalisco, Mexico but Hugo has lived in Chicago most of his life.  He has two brothers and three sisters. His parents worked long hours in restaurants and factories to provide for the family and taught them the true meaning of hard work, love, and family. He is currently a math teacher because he wants to empower young adults. He wants to help strengthen the skills they need to accomplish their goals and inspire them to uplift communities that have been hurt by any type of oppression.  
Jes Connolly
English Teacher
Jes Connolly is a recent addition to PACHS, joining the English Department. Jes is a graduate of Governors State University, and holds a Bachelor's Degree in English, with a minor in Secondary Education. Recognizing the inequities of the current social and government structures, she works to inspire students from underserved communities to use their education to create change through agency, empowerment, and understanding. In previous positions, Jes has helped students explore self-expression through poetry and spoken word, developing public speaking skills in teens so that their voices may be heard. She has also collaborated with students to produce publications so that their talents can be shared within the community. When she's not teaching, you can find Jes engaging in a plethora of creative activities, such as painting, writing, and macrame. Or just hanging out with her dogs.
Aaron Clarke
Civics and Sociology Teacher
Aaron Clarke teaches history.  He is grateful to be surrounded by incredible people that make up Dr. Pedro Albizu Campos High School. As an educator, he is committed to a pedagogical practice informing the mission and legacy of Campos. This means that he approaches teaching as a critical and communal act. As a student, he is interested in a philosophy of freedom. He enjoys the music of Kanye West, the poetry of Fred Moten, and the writing of Toni Morrison. He grew up in Evanston and is one of the best freestyle rappers. He owes everything to his family and friends.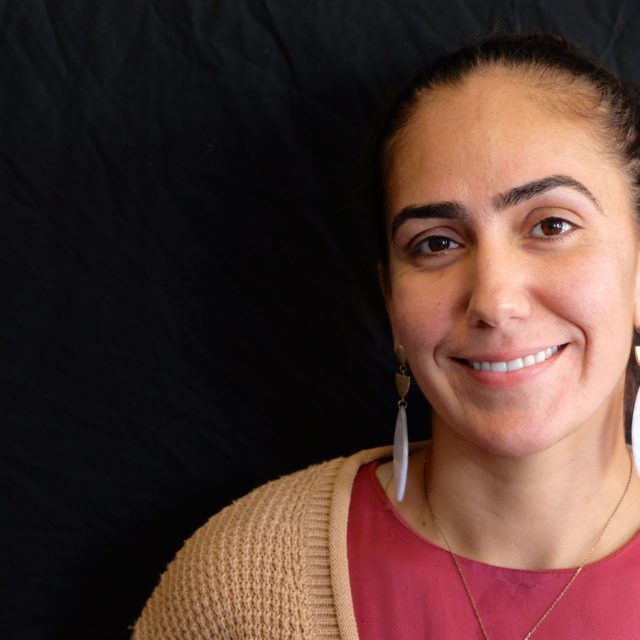 Erica Serrano
Health and Wellness Teacher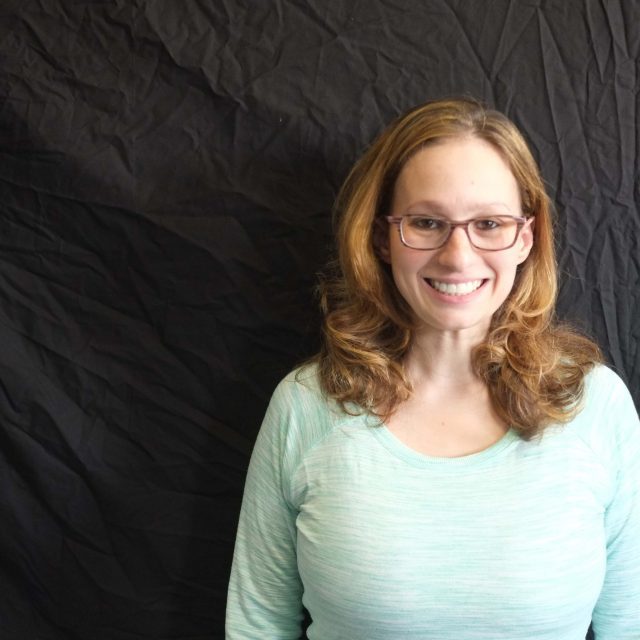 Lisa Rothenberg
Diverse Learning Team Member
This is Lisa's fifth school year at Dr. Pedro Albizu Campos High School. Lisa is a graduate of National Louis University with a Masters of Education in Special Education K-12. She also graduated from Indiana University in Bloomington with a Bachelor's Degree in Elementary Education and a minor in Hebrew. Lisa has taught in a variety of schools within Chicago Public Schools and the northern suburbs. Lisa works to help students reach their full potential in all subjects. She aspires to be a teacher that students come to for assistance. Lisa also enjoys learning about the student population with her involvement in the Ageless Eye Care Program. Through coordination with this program, students are eligible for free eye exams and glasses. When she is not teaching. you can find Lisa spending time with her family and watching the Chicago Cubs and Cleveland Indians.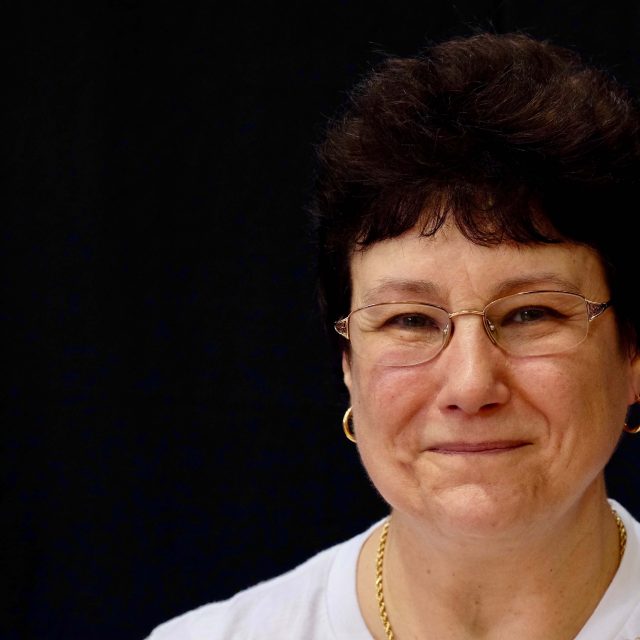 Cynthia Van Roeyan
Diverse Learning Team Member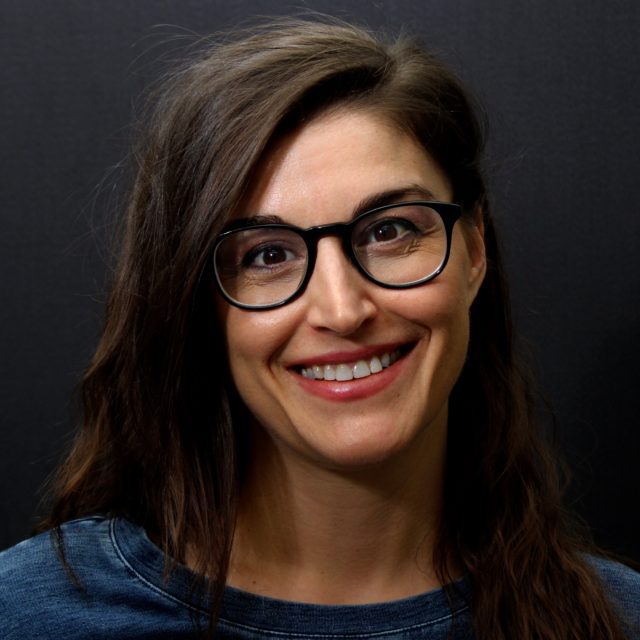 Elizabeth Levenda
Science Teacher
Crystal Morales
Family Learning Center Mentor
Crystal Morales has 19 years experience working with at-risk teens in Chicago.  Crystal has a unique ability to mentor and counsel teens with intense barriers, as well as linking them to much needed services.  A first generation US born Puerto Rican, Crystal had first-hand experience of the racial inequities and institutionalized racism that people of color face in this country. She uses this experience to hone her skills in relating with and empowering young people. Crystals career spans assisting in a community daycare, mentoring alternative high school students, implementing administrative duties as a school registrar and recently mentoring parenting high school students. These past positions have positioned Crystal to understand the various issues that impact teens in Chicago's Humboldt Park, as well as the different skills and positions (from administrative to direct services) that play a role in servicing young people.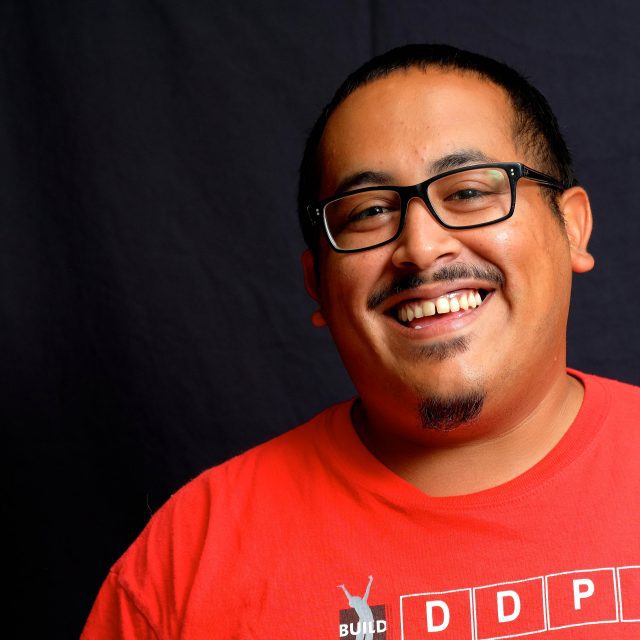 Michael Carrizales
YES & Junior Mentor
Michael is the YES and Junior mentor here at PACHS. Michael is of Mexican descent and grew up in the Pilsen and Little Village neighborhoods of Chicago where he had to overcome all the obstacles of the streets just like the youth we serve. He has worked for 10 years doing Youth Development here in Humboldt Park neighborhood. Michael developed a passion for youth development at the age of 16 while doing a internship at Mujeres Latinas En Accion working with the afterschool program while in High School. He realized that he could really make a difference by being a role model and mentor to the youth of our beautiful city and the rest is history. With all of the skills he has attained over the last 10 years doing this work, Michael has lots of positive perspectives and insight to pass on to our young people to help better prepare them for the rest of their life.   
Ivelisse Colon was born and raised in Chicago, IL in the Belmont-Cragin neighborhood. Ivelisse graduated from Wilbur Wright College and received an Associates Degree in Criminal Justice. Becoming a teen mom helped her realize she wanted to work with the youth and help them become successful. Ivelisse has been the Attendance Counselor for two years and this gives her the opportunity to work around youth and family on a daily basis and help them improve their attendance as well as family involvement. Ivelisse hopes to build and grow various relationships with the students and family.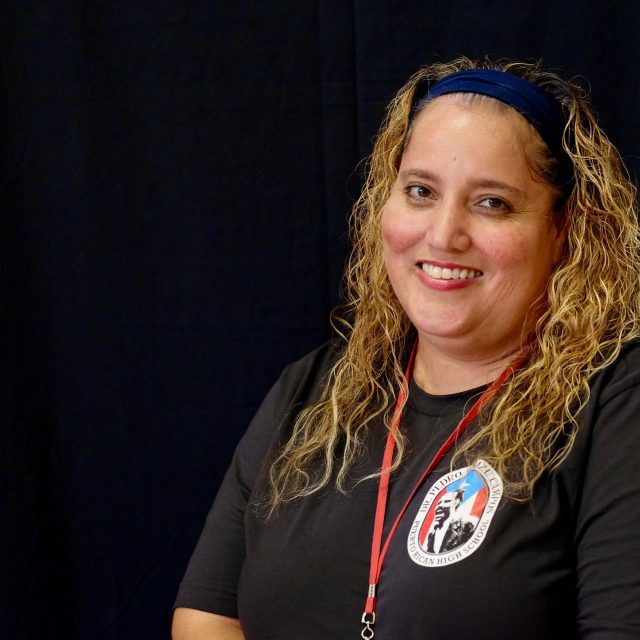 Angie Velez
Attendance Counselor
Angie Velez was born and raised on the Northwest side of Chicago. After marrying her elementary school sweetheart from seventh grade she then had four amazing children. Angie enjoys working with people and giving service with a smile, which is why she became the Registrar at Albizu Campos High School. She assists students and parents on a daily basis so students have the necessary requirements to graduate and move on to the next big chapter in their life.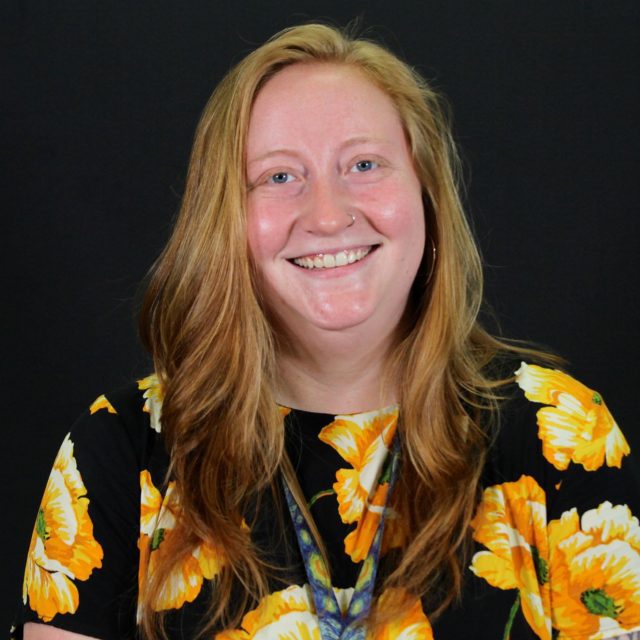 Helena Lavric
Social Worker
Helena is the social worker with the Diverse Learning Team. This is her fourth year at Albizu Campos. She earned her Bachelor's and Master's in Social Work from Loyola University Chicago.  In her role at Albizu Campos, she provides individual therapeutic services, conducts social assessments to ascertain levels of functioning within the academic setting, and determines appropriate accommodations and modifications to ensure neurodivergent scholars receive equitable access to education, all while spreading her sunny disposition and positive energy. Her education, research, and work at Albizu Campos and beyond have instilled a strong commitment to intersectionality, social justice, and anti-racism into her professional identity and clinical approach. Outside of school, Helena loves all things music, art, animals, dance, and pop culture.
Gina Quiles
Day Care Provider
Genieve Quiles was born and raised in Humboldt Park.  Genieve was a teen parent at the of 15 years old and she is the proud mother of four boys and one girl. In her spare time, she likes to draw, paint and play sports. Genevieve is grateful for having this opportunity to work at PACHS and be part of the Family Learning Center. With this opportunity, she is able to share her experience and to help other young teen mothers and fathers.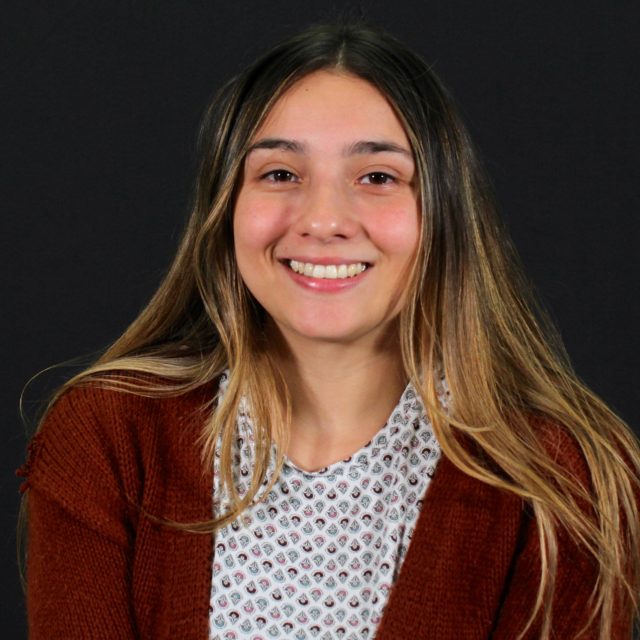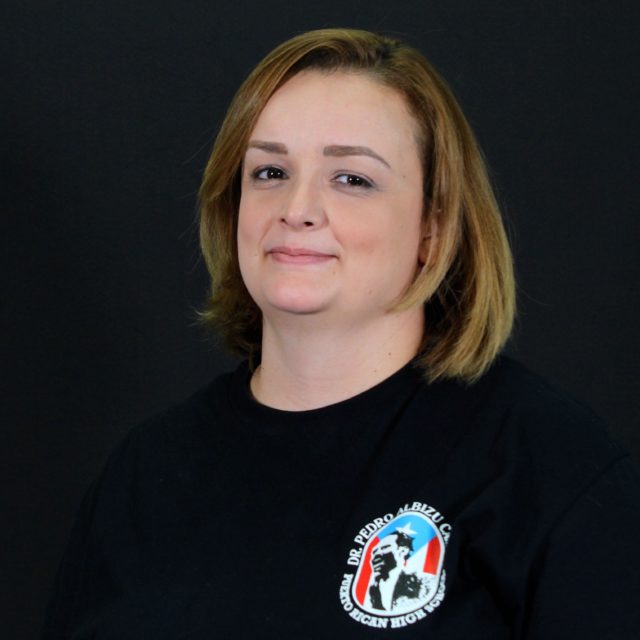 Erika Carreno-Carvajal
Paraprofessional
NLU Student of Behavioral Sciences proud to be a bilingual paraprofessional. I love being part of the Pedro Albizu Community.
Annette Perez
BUILD Female Intervention Specialist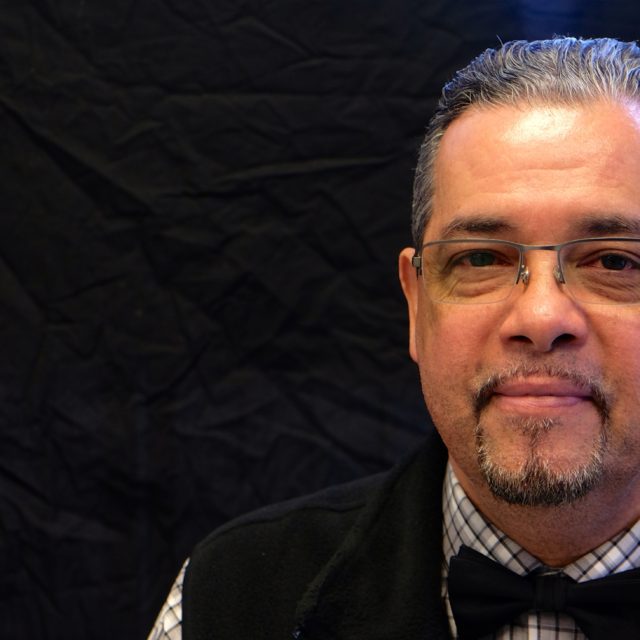 Carlos Vega
BUILD Male Intervention Specialist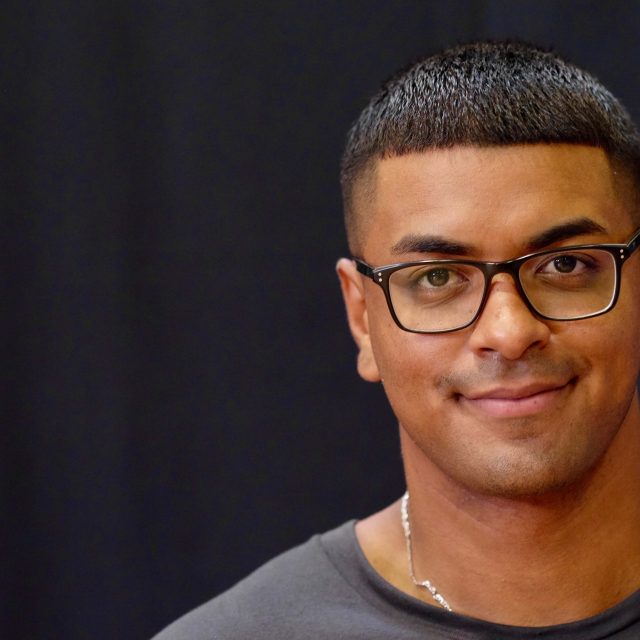 Kevin Ayala
Security Officer
Kevin Ayala grew up in the Bucktown and Wicker Park communities; however, he attended high school at Roberto Clemente Community Academy which is in the Humboldt Park. Immediately out of high school Kevin got right into the security industry and takes pride in safety and protection. Kevin also has a passion when it comes to bodybuilding and fitness. Kevin feels exercising is great way to get rid of stress. This passed year Kevin worked for a non profit organization and develop more skills with working young people. Kevin is excited and ready to insure the safety and protection of the students we serve here at Albizu Campos High school.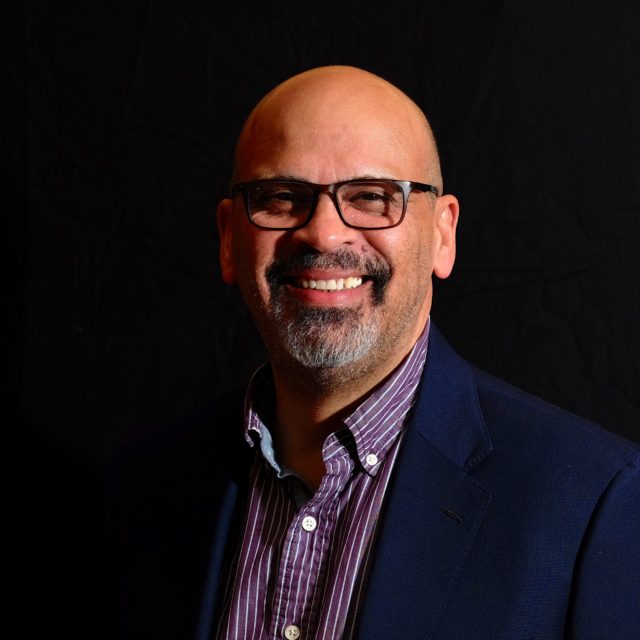 Marvin Garcia
M.A.Ed. – Executive Director
Marvin is the Executive Director of Dr. Pedro Albizu Campos High School and the Chair of the Chicago Public Schools Community Action Council of East Humboldt Park known as "Community as a Campus". His duties include the coordination of support to 16 school Principals whose schools fall within the boundaries of the Roberto Clemente Community Academy. He also collaborates with seven nonprofits to provide wrap around services to the children and families attending "Community as a Campus" member schools.
Marvin has 38 years of service in alternative education working with the most under-resourced schools in communities that have seen disinvestment. He served 17 years as the Director of the Dr. Pedro Albizu Campos High School, including 15 years as the Board Chair. He worked 13 years as the director of the professional development arm of the Alternative Schools Network of Chicago where he facilitated the training of 52 alternative school Principals and administrators to obtain the Type -75 Principal's certificate.
Currently Marvin serves on the Board of Trustees at Northeastern Illinois University and has served on the University Civil Service Merit Board, the National Latino Education Research and Policy Board, the Aspira Inc. Board of Directors and is an active member of the Puerto Rican Agenda of Humboldt Park Chicago. Marvin is a recipient of the Chicago Community Trust "Community Service Fellow" award in 2000, and holds two Master Degrees in Adult Education and Educational Leadership.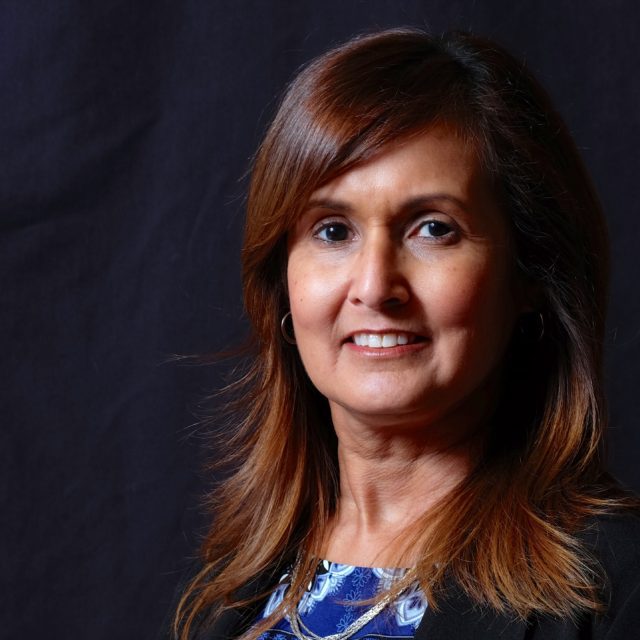 Evelyn Rivera-Swint
M.A.Ed., Board Member since 2014
Evelyn is the Board Chair; she currently works at Community and Economic Development Association of Cook County (CEDA) as the Program Outreach Manager. Evelyn provides awareness and education about CEDA's programs and services to underserved communities throughout Chicago and suburban Cook County. Prior to CEDA, Evelyn worked as the Registrar at PACHS and became an active member within the Humboldt Park and surrounding Latino communities.  She contributes her time to the Humboldt Park Youth and Safety Committee, Avondale Coalition, Humboldt Park CQC (IL Hunger Coalition), Cicero Community Collaborative and NBC/Telemundo Community Action Board, to name a few.  As a product of the Humboldt Park community, Evelyn's passion is to ensure that every PACHS student is academically successful and has a plan for the future. Evelyn is a double alumnus of NEIU.
Rafael Quiñones
Head of Security
Rafael "Rafa" has been the Head of Security at Dr. Pedro Albizu Campos High School for seven years.  Rafa believes in creating a culture of calm and restorative practices that foster positive relationships. Rafa invests in professional development of his security team to ensure that all students are treated with dignity and equity.  Rafa is a family man with a lot of love in his heart. During his summers, Rafa can be found providing security for some of the summer festivals throughout the city of Chicago.
Jesenia Frausto
IYIP Mentor
Rebekah Marcano Sierra
Board Member since 2022
Rebekah Marcano is a wellness consultant and advocate with over 20 years of experience with corporate, clinical and community facilitation. She is currently a member of the Puerto Rican Agenda Health and Education committee and facilitates yoga and mindfulness programs in Humboldt Park for students and parents .With a deep sense of commitment to family, continuing education and purposeful work,Rebekah became a member of the PACHS board of directors in 2022.
Evette Johnson
Front Desk Receptionist
Nelson Maisonet
Custodian
Pawan Kumar
School Accountant
Jorge Pena
BUILD Interventionist
Felix Jusino
BUILD Interventionist
Emmayoli Silva
BUILD Interventionist
Arteria Puckett
YouthBuild Case Manager
Dr. Sherry Hunter
YouthBuild Director
Lizzette Richardson, J. D.
Post-Secondary
Nyasia Ramos
Paraprofessional
Mary "Mix" Dodson
Teacher
Christina MIleva
Math Teacher
Mike Staudenmaier
Ph.D., Board Member since 2017
Dr. Staudenmaier serves as the Board Treasurer; he is the Assistant Professor of History at Manchester University in Indiana, where he teaches courses on United States and Latin American history.  He has been connected to Dr. Pedro Albizu Campos High School for more than 25 years, serving as a grants writer, history teacher, and fiscal manager.  He regularly describes those years at PACHS as the most important and transformative educational experience in a lifetime of active learning.  He is a Certified Public Accountant (CPA) and brings an accountant's skillset to his work as Board Treasurer.  He pursued his CPA credential largely because of his commitment to the High School and to educational alternatives in general.  He subsequently also worked for several years at the Alternative Schools Network, a major funder of PACHS.  In a similar vein, his passion for history
emerged while teaching a World History course at the High School in the 1990s, leading him eventually to pursue a career as a university-level teacher.  His research focuses on the history of Chicago's Puerto Rican community. He has published extensively on this and related topics, with articles appearing in multiple academic journals and chapters in a number of books.  He is currently revising his dissertation into a book manuscript.  He lives in Austin with his wife, a Chicago Public Schools teacher, and their three children.
Milagros Fernandez
Board Member since 2020
Milagros Fernandez, LCSW was born and raised in Humboldt Park and proudly raised her daughters in the same home in which she grew up.  She and her family feel a deep sense of pride in their Puerto Rican culture and it brings her great joy to give back to the community as a member of the PACHS board of directors.  Milagros possesses over 20 years of experience in clinical social work in the areas of community mental health and child welfare.  She graduated from the University of Chicago with a Masters in Social Work in 1994 and received the Infant Mental Health Certificate from the Erikson Institute in 2010.  Milagros currently serves as Vice President of Family Services at the Angel Harvey Family Health Center where she oversees the behavioral health and child development programs. At Angel Harvey, she led the charge to create innovative programs to meet the social-emotional and developmental needs of children, youth, and families in the community.